"Kum Nye heals both our bodies and minds, bringing the energies together to function calmly and smoothly."
Lineage

"Kum Nye is our great treasure, a right to be cultivated and embodied, a heritage to be revitalized and expressed through our attitudes and actions. It is because of the knowledge preserved within Kum Nye that the Buddha is a symbol of universal peace and the Dharma is a symbol of healing and transformation. We can not let this knowledge die."
(Tarthang Tulku)

The system of Kum Nye that we present is thoroughly modern, drawn from Tarthang Tulku´s own training and experience and presented and introduced to the West with the publication of the books Kum Nye Relaxation Vol. I and II (Dharma Publishing, 1978) and Joy of being – Advanced Kum Nye practices for relaxation, Integration &bnsp; Concentration.
(Dharma Publishing, 2006)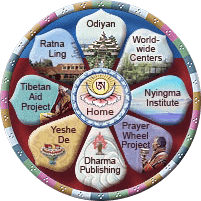 Despre Tarthang Tulku Rinpoche
Tarthang Tulku Rinpoche este de origine din estul Tibetului. Cunoscut si sub numele de "Rinpoche" (ceea ce înseamnă "învăţător preţios"), Tarthang Tulku a fost educat de către marii maeştri ai acelor timpuri în mod tradiţional în şcoala Nyingma a Budismului tibetan.
Tarthang Tulku a plecat din Tibet în 1959 după subminarea culturii tibetane. Din 1959 până în 1967 a predate Budismul la Universitatea Sanscrită din India. În 1968 Rinpoche a sosit în Statele Unite, unde a locuit şi lucrat de atunci. Pentru a susţine refugiaţii tibetani, a prezerva cultura tibetană şi a face învăţăturile Budiste accesibile studentilor occidentali, Rinpoche a iniţiat o serie de proiecte şi a stabilit peste 20 de organizaţii incluzând Institutul Nyingma, Tibetan Aid Project, Dharma Publishing, Yeshe De + proiectul de prezervare a textelor, şi centrele internaţionale Nyingma.
Rinpoche este un gânditor vizionar, a scris optsprezece cărţi care dezvoltă înţelegerea inimii şi a minţii umane.