"Kum Nye is life"
Welcome to Kum Nye Yoga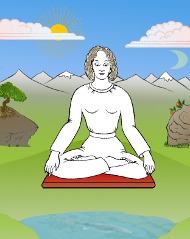 Mind and body both seem to need relaxation, especially in today´s world where the busyness of everyday activities generates much stress. With Kum Nye, we can loosen up the tension connected with this stress and open up the sensitivity inherent in our human embodiment.
By tuning and refining this sensitivity each day, we can make progress in releasing our being from constrictions that prevent us from actively engaging ourselves. This releasing and refinement immediately bring an enriching quality into our lives, while gradually leading us toward the spiritual path.
Regularly engaging in Kum Nye prepares the ground for meditation und helps create the conditions that allow one to become a candidate for serious Dharma study and practice.