"Through Kum Nye relaxation, we awaken feelings which then expand and accumulate until we slowly become aware of a deep, interpenetrating filter of energy, inside our body and beyond it."
E-Kum Nye Yoga Course
Kum Nye per email consists of five levels, each level structured in ten weekly segments. After having finished Level I in ten weeks, one can proceed to Level II for the next ten weeks. All together, the five levels of Kum Nye Yoga – per email provide a year long intensive Kum Nye training.
The Five Levels of Kum Nye Yoga by email:
| | | |
| --- | --- | --- |
| 1st | Outer Kum Nye Relaxation: | Opening to feeling and to the power of breath. |
| 2nd | Transformations: | Wholeness through stimulating and transforming energies. |
| 3rd | Inner Balance: | Integrating body and mind to engender wellness. |
| 4th | Cream of Kum Nye: | Advanced Kum Nye to liberate the senses and mind. |
| 5th | Extracting the Juice of Experience: | Joy of Being |
Each class contains:
* introduction video
* Kum Nye theory
* Practice session of 60 - 90 minutes
* five minutes meditations
* practice during the day
* reading assignments
* meditation video
Additional eKum Nye topics:
a) Refreshing the five levels - 10 lessons with new material and suggestions for transformation
b) Top ten Kum Nye exercises - with theory, recommendations, questions and answers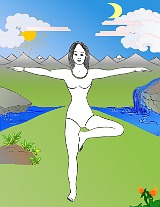 Kum Nye – per email will consist of one email per week containing required reading, three to five practices, specific additional suggestions and applications in daily life, as well as providing a forum for discussion.
The email course is offered in various languages including English, German, Dutch, Spanish and Portuguese.
Dharma Publishing requires a signed statement from each participant agreeing to our honor system that emails cannot be duplicated or passed on to others, or used for any other purpose than private use only.
These levels can be further explored during weekend seminars and retreats at different locations around the world and at any of our authorized Kum Nye instruction centers
You can apply for E-Kum Nye with our registration form